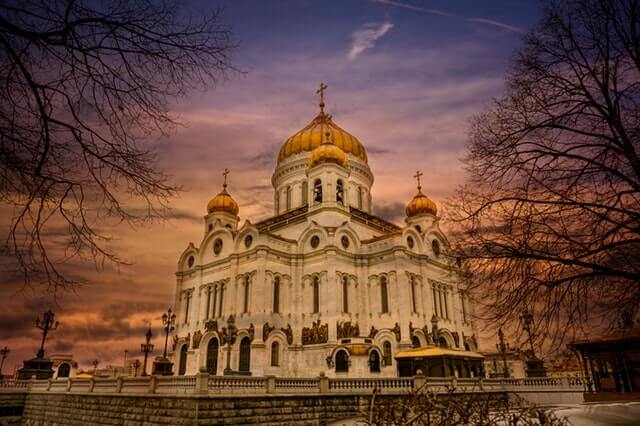 Just Visit Russia, it's the world's largest country that offers it all, from the peaceful countryside, have the most historical cities. Also offers epic train rides with a Russian Vodka-fuelled nightlife.
How to get the Russian Tourist Visa?
The process of getting your visa to Russia is easy and quick, It took us between 24 hrs (Express, Same Day) to 72 hrs. It depends on the Embassy you're applying to and of course your Passport.
In the next part of the article we'll be talking about the Documents you need for Russian Tourist Visa, the Visa fees and the most important thing is the process of getting your visa to Russia:
1. Which documents do you need for the Russian Tourist Visa?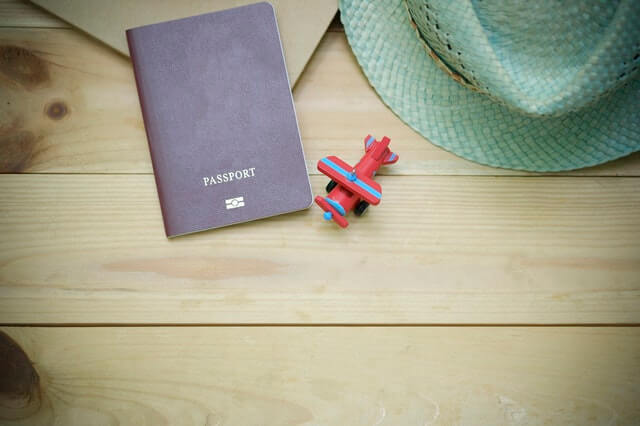 One of our writers applied from the USA, another friend applied from India. Both had to provide those documents: (Check on Russian Tourist Visa Website)
Invitation Letter from an Authorized Russian Travel Agency. You don't need to provide Original Documents, you can attach the email you get from the Agency.
Hotel Booking voucher or reservation.
Passport.
In most cases, you don't need any of those when planning to Visit Russia: Flight Booking, Bank Statement, Travel Insurance or even an interview at the Embassy.
2. The application fee for tourist Visa to Russia
You have the option to pay the Visa fees by your credit card directly on the website. It cost between $50-$60 (42€-52€) depends on the type of Visa: single-entry or double-entry, you'll get a Visa for up to 30 days.
Tip: You don't have to pay the Russian Travel Agency to get your invitation letter it should be provided for Free.
3. The process of getting your Russian Tourist Visa:
I already told you the process of getting your Russian tourist visa is easy. You just need to follow those few steps, and you're done:
Get 10% off using our Booking.com link.
Book hotel(s) directly from Booking.com, Hotels.com or any other trusted website. (for example at st. Petersburg and Moscow)
Fill the "Russian Tourist Visa" form on the website. We already got the visa with a printed Invitation Letter. No need for Flight Tickets or Bank Statement.
Invitation and voucher would be prepared the same or next business day. You'll get a confirmation email.
Print and present the Invitation and Voucher at your Russian Embassy or Consulate.
Note I: If you are staying in multiple cities or hotels, try getting the Invitation Letter from the Hotel. Beware that the hotel will charge your credit card if you cancel the reservation. Also, every hotel will only provide an Invitation Letter on their behalf and NOT for other hotels.
Note II: It's better not to use Airbnb for your Russian Tourist Visa Application, not sure, but it may not be accepted as a proof of reservation at the Russian Embassy. Just get your Visa with a regular Booking.com reservation, then switch to any other accommodation option you want.
Passport Control in Russia – Customs Restrictions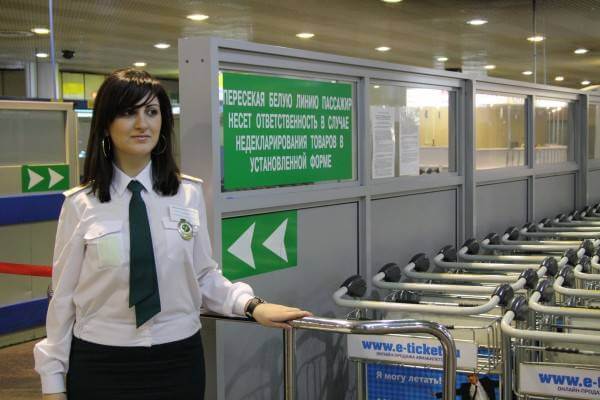 We already visited Russia a couple of times, here is our review regarding the Russian customs (at the airport):
Immigration was very smooth and quick.
No questions asked: you handle your passport and that's it.
No queries or additional documents were asked: the customs will scan your passport and allow you to enter, no one asks you for any supplementary materials.
The whole process took 5-10 minutes.
Russia Tourist Attractions, must see if you Visit Russia:
Moscow – Capital of a continent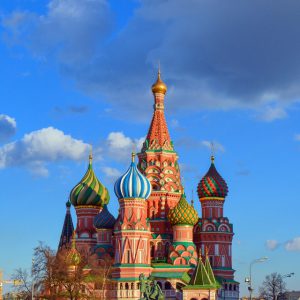 If you are planning to visit Russia, you'll have to stop at the capital, Moscow. The city receives tourists from all over the world at all times of the year.
You'll find entertainment everywhere, in the Squares and at the Avenues. You'll be lost if you don't make a plan to visit Moscow.
Just keep in mind that visit in Moscow will take at least 3 to 4 days,  maybe more if you are targeting museums and other days have in mind some places, but you need to go or visit.
Red Square – Must visit when in Moscow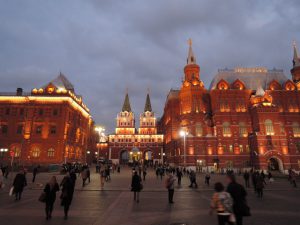 Red Square is one of the most-visited parts of Moscow. Every tourist needs to take a walk and hang out on the big Square, you would see the Kremlin (note that it's closed on Thursdays so don't plan to visit the Kremlin in those days)
Also, the St. Basil's Cathedral and the Lenin Museum must go on your list too, and you can visit the Cathedral of Our Lady of Kazan.
Moscow Kremlin – Which tickets you need to enter: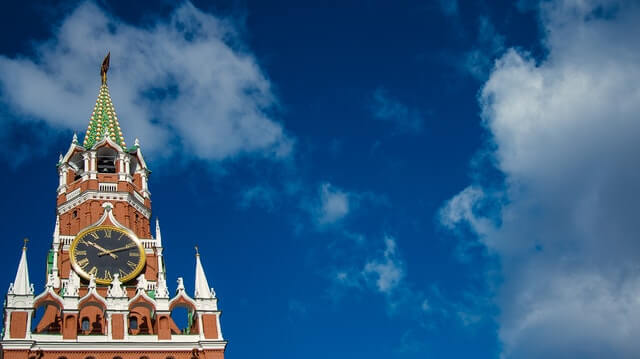 Let's say you're already planning to visit the Kremlin you'll choose from two types of tickets to access the Kremlin. The one-entry ticket will cost around (500 Rub), the second type of tickets is required to enter the Armory Chamber (700 Rub).
Keep in mind that tickets to the Armory Chamber are limited and give you access only at a specific time of the day, but you can book those tickets online.
Tip: Obviously, you don't like to spent time waiting at the queue, so avoid entering from the Trinity/Kutafiya tower.
Getting the Armory Chamber tickets will give you access from Borvitskaya tower, less crowded if you pick the right time.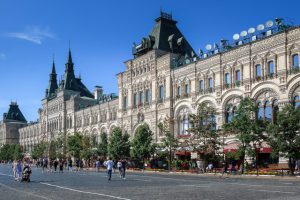 Tverskaya Street – You can't miss it
Admiring old buildings, looking for luxury shops and the best restaurants? Just go to Tverskaya Street you would be surprised with the ancient interiors and the Russian traditions in those places.
At the same point, you can't miss the Bolshoi Theatre, one of the few places where the best dancers performed. Even if you're not fun of Ballet and Opera, you must take a look at the traditions of the Bolshoi.
Another museum you should visit is the Pushkin Museum, they have the largest Art Collections in all Europe, painted and sculpted by artists from all over the world. The Kremlin Armory is another museum that should be on your list, where do can visit a living history of the Russian Empire.
Izmaylov Market – On budget buying market
One of the unusual destinations in Moscow, far away from any touristy places is the Izmaylov Market, it's recommended to visit this place if you're looking for On Budget Souvenirs like Russian Dolls, old Soviets items or Russian Scarfs. It's a bargain market, always have 50% off on all items.
Visit Izmaylov Market not just for bargain buys, but also for admiring the wooden churches and old buildings, the ride takes approximately 20 minutes from the city, you need to take the Partizanskaya Metro (Blue line).
Tip: Avoid shopping or buying souvenirs from the crowded touristy places, the prices are way high. You'll be tricked to buy more, but you will pay more.
St. Petersburg – City of History, truly a second Capital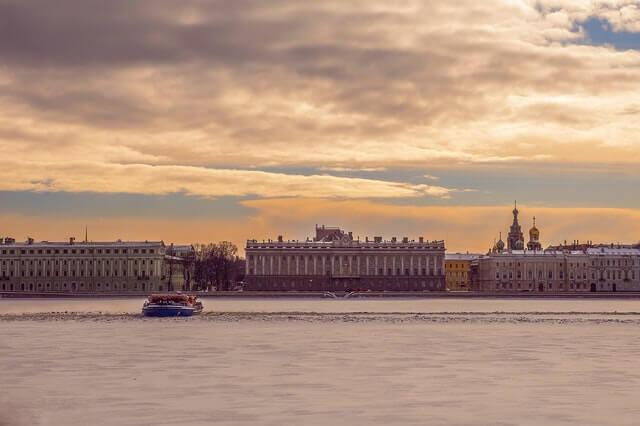 Let's call it Venice of North, Saint Petersburg is truly a second capital of Russia. It has a significant impact on Russian history,  you'll see it yourself walking in the streets of the city.
A lot of tourists planning to Visit Russia will land on Moscow, but a lot of them will visit St. Petersburg for sure. You'll enjoy the fantastic views of the Sea Side, the culture and the history all in one Russian city.
Museums of St. Petersburg
St. Petersburg hosts some of the best museums across the world, you can't miss the Hermitage Museum with its historical and artistic galleries, some of the Art Enthusiasts compare it to the Pergamon in Berlin and the British Museum in London.
It would take at least a day to visit the whole Museum, you can also visit Kunstkamera and take a look at the ethnographic objects, not only Russian artefacts but also from China and Native American Indians culture.
Questions and Answers from Tourists Visiting Russia

What are the Public transportation options from the Airport to City Center?
Take a Shuttle, Bus (look for the number 39 or 39Ex.) Will get you to the Moskvosky Metro station. Costs around 40 Rub.
By Metro, buy a ticket with 45 Rub to any destination in the city.
Which phone charger will fit there?
All Airports, Hotels, and public places (including Apartments, coffee shops and restaurants) uses the European outlets, if you are visiting from the UK or the US, you need to take a universal plug adapter.
Anything I should take home from Russia?
A lot of tourists ask for which items to take home of from Russia? If you Visit Russia to buy a classic gift as a souvenir, you can go for a Matryoshka, fur jackets and caps, nested dolls, also if you cant afford it take a Wolf Skin back home.
Where to exchange or withdraw cash?
You can take whatever currency you have,  about using euros will cost less when exchanging to the Russian ruble. The best option is to pay with your credit card, check out the article about how to avoid credit card problems when travelling.
We used our US Credit Card, the Russian Bank didn't charge a commission but ou Local Bank did charge a 1% commission.
Don't forget to carry some cash for an emergency; also if you are going to buy at a bargain store, it's best to exchange the local currency and pay cash.
Moscow to st. Petersburg bullet train fare?
Also called "Sapsan High-speed Train". The fare depends on the distance and the travel time, just check the official website for the Bullet Train and book your ticket.
Where to eat when you Visit Russia:
Most of all you can try the traditional Bakery in Russia, the famous Russian Vodka. But if you are vegetarian, on a diet or just need to eat a gluten-free dinner, recommend to look for the options on Airbnb (if you are planning to book an apartment).
Which Russian words should I learn before traveling to Russia?
We already made a post about the Russian words you need to learn if you are visiting Russia, please check this article about the most used Russian Words for Tourists.
You can also try downloading Travel Translation App to help you understand how to pronounce words, translate some boards or signs in Russian.
Where to buy the Troika Card? 
The Troika Card is available at every Metro Station, you can also buy the car at the Airport works with every Urban Transportation, also can be used in Aeroexpress.
Check this visitor's guide to Moscow Public Transit for more details.
Does the Troika Card valid in St. Petersburg? 
I wasn't sure until I looked it on the official website; unfortunately the answer is NO.
When in St. Petersburg you should get the other card called Podorozhnik Card, this one costs around 60Rub (refundable if returned in 45 days). It's the second-best transportation option in St. Petersburg (you can also use Uber or take a walk).
Note: back in Russia for the World Cup 2018, both cards were valid in both cities. See update from the official website.
Pros and Cons you need to know before you "Visit Russia":
Earlier this year we did Visit Russia (Moscow and St. Petersburg) it was a pleasant trip, I'll say it was a great experience, and here are some notes to take that may be useful for you:
Likes about the "Visit Russia" plan:
Tickets machines will save you time, most of them are in English and accept Cards and Cash. Whatever you are buying museum tickets or any other attractions ticket.
Public transportation isn't expensive, it's not the cheapest option because you can go for Uber, and it works great over there.
Getting a Russian Tourist Visa is very easy, the process is transparent and sample.
All tourist attractions and destinations are safe even at night, you'll feel secure even if you're travelling solo.
In Russia, but mostly in St. Petersburg you will experience the night sun, the yellow star sets around 10-11 P.M.
Bullet Train it in between the two capitals (Moscow and st. Petersburg) takes only 4hrs.
Buying a SIM card at the airport is the right choice, make sure to get the roaming free plan on the sim card, roaming is also applicable between Moscow and st. Petersburg.
Dislikes about the "Visit Russia" plan:
Entry tickets for the Museums are a little bit expensive than expected.
Metro stations in Moscow should provide a map in English, train platforms and boards are in Russian.
Specific gastronomy and cuisine (vegetarian, gluten-free, halal food and kosher food) are very expensive in Russia.
Most tourists ask questions about water, the answer was "both bottled, and tap water is safe for consumption" but keep in mind that water price isn't cheap.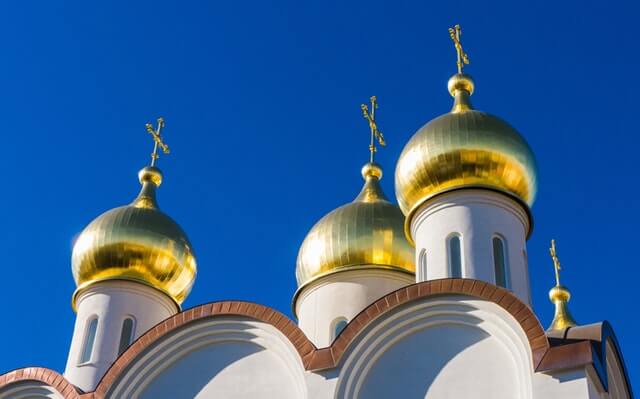 Overall you just need to Visit Russia, even if you just started travelling or you already saw a lot of places from over the globe, Russia should be on your bucket list.
Personally, it was an outstanding, a lot of cultures, lots of traditions. People were friendly to us, they speak English. Also, they are open to tourists and welcome everyone with a smile.
In conclusion, there's nothing to prevent you from visiting "Mother Russia".