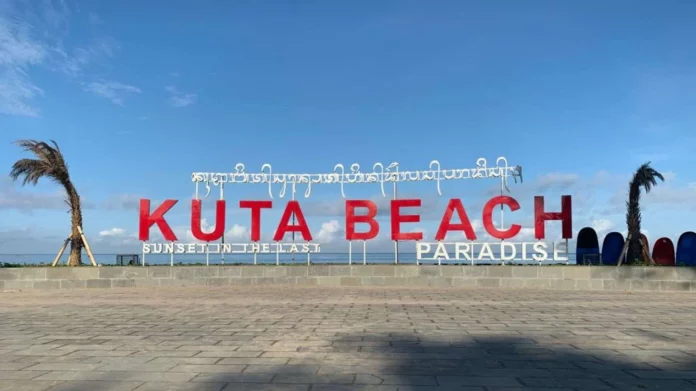 Today we arrive on the island of Bali. Let's go for 20 days in Kuta Beach! After the short visit in Mataram, we are finally rewarded. Let's enjoy the beach, the sun, and the swimming pool once again!
Until a few decades ago, Kuta was a fishing village, but that has changed a lot… In the 60s, hippies were doing their road trips in Asia and their journeys often passed through Kuta.
Since then, the city has once again changed with the advent of mass tourism. There are luxury resorts, hotels, bars, restaurants, shopping centers and lots of entertainment. From this mixture was born the reputation of Kuta Beach.
Travelers' reviews of Kuta Beach are very mixed. On the one hand, this is "the place to be" and on the other hand, it is the place to avoid. So how can you give you the right advice? In what follows, we list you point by point what we saw in Kuta so that you can form your own opinion.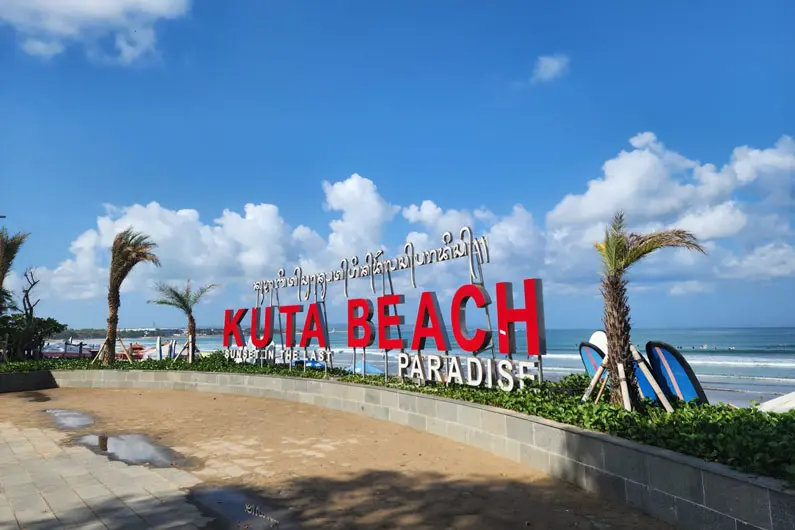 Kuta Beach
Kuta Beach is a very popular beach in Bali. Its wide expanse of white sand for miles has made it one of the island's premier tourist destinations. You can also see in the distance, south of Kuta, the city's airport where planes land at a maddening pace.
Enough room to do it all
If you go for a walk on this beach, you will have something to take care of because it is so big. You can rent sunbeds and an umbrella for the day for a few rupees or just sunbathe on your towel and see the prowess of the surfers. The waterfront walks are very pleasant. It can go on for hours if you like to walk. Some mark the lines of an imaginary land in the sand for a match between friends, others will sip a cocktail to watch the sunset. You can also have a massage in the shade of the palm trees by a pretty Balinese girl. If you love to dance and are there at the right time, sometimes there are classes given on the beach. From 7 to 77 years old, everyone can participate and follow the rhythmic rhythm of the music, their feet in the soft sand.
Watch out for…. wave
Tip: swim between the red flags, because this is where the beach is supervised. Besides, the rescuers are very strict. At the slightest misstep, they will ask you to move in or out of the water for safety. The waves and the currents are very strong, several accidents and drownings of tourists happen every year. After a few meters in the water, it becomes really dangerous without a board. You are carried away without being able to do anything about it.
The meeting place for surfers
The big waves of Kuta Beach are the perfect place for professional surfers or beginners. You can either take lessons with a professional, or just rent a board and risk it on your own. For the less adventurous, there are also bodyboard boards that make their effect. No illusions though, they'll whirl you around anyway!
It is true that for swimmers, it can be a bit disturbing. Too many waves, too many surfers … But we did it and we found it super fun! Yes, we assume, we played for hours like children Who never got into a wave before it broke? And if you stay at the water's edge, you'll be in a large paddling pool.
Yes, there are Tides in Kuta
Surfers take into account the coefficient of the tides, the high tide being more favorable to large waves. You can also take very beautiful walks at the end of the day at low tide.
Voir les horaires des marées hautes et basses de Kuta Beach
See the high and low tide times for Kuta Beach
The must-see sunset
This vast horizon located in Kuta Beach offers you a unique and splendid sunset. Depending on the sky, whether it is clear or not, the colors change. The sparkling red mixed with the sky and the sea is magnificent.
However, you won't enjoy it alone. Many people come to watch the Kuta sunset at the end of the day. But everyone finds their place there since the beach is large.
Voir les horaires de lever et coucher du soleil à Kuta Beach
View Kuta Beach Sunrise and Sunset Times
Arriving at night, you can admire the throwing of paper lanterns on the beach. We haven't tried to buy one to do this, but it is possible. We were pretty curious how far they would go and when they would explode!
Shopping
If you want to go shopping in Bali, Kuta Beach is the way to go. You will find all the most famous brands. Luxury brands like Dior, Chanel, Rolex, Hugo Boss and brands of surf equipment like Quiksilver, Billabong, Rip Curl, Hurley. But also the most famous ready-to-wear brands such as H & M, Bershka, New Look, Zara … Not to mention that all this is accompanied by bars and restaurants of all kinds and which cater for all tastes. ATMs everywhere and the deal is in the bag. Suffice to say that for a shopaholic it is easy to fall for it.
We show you some examples of those we have visited.
Beachwalk Shopping Center
In a sublime setting, this shopping center is the place to visit even if you are not buying anything. It's a real walk outside and facing the beach. You can sit on the benches along the alleys and soak up the sun and the atmosphere. At night, everything is lit and it attracts a lot of people.
Clothes and accessories: We find Adidas, Armani, GAP, Guess, Lacoste, Levi's, Mango, Pandora, Swarovski, Pull and Bear, Timberland, Victoria's Secret and we do without …
Beauty: we pass The Body Shop, Yves Rocher, L'Occitane.
Entertainment: An "Amazing Walk" fast paced game center written in Walt Disney letters will immerse you in the world of Disney. You can leave your children on the top floor, there is no shortage of attractions to keep them occupied.
Catering: around twenty restaurants and stands offer food and drink. From Japanese to fast food to the Italian restaurant, there is everything.
On the other hand, don't think of doing business here, the prices are about the same as in Europe.
Discovery Shopping Mall
The Discovery Shopping Mall is a very large mall that is easy to get lost in, but overall it's easy once you get to know the area. The most beautiful entrance is the one overlooking the beach.
We find more or less the same brands. But the main difference is the presence of stores selling local products, whether clothing, food or souvenir items. We are really seeing some very beautiful things. You can do business there, because the prices are pretty good.
You can also eat here, there is a lot of choice. From local cuisine at very attractive prices to international restaurant chains (Pizza Hut, KFC…) at higher prices.
Lively places
Kuta is a very lively city, especially at night when restaurants, bars and nightclubs of all kinds fill up. We list the 4 main places to go out at night and even during the day.
Legian street
Jalan Legian is the main street that crosses Kuta from north to south. Here you find multitudes of shops, bars, restaurants, hotels and nightclubs. In the evening, thousands of tourists swarm the streets to the delight of traders.
Tip: Avoid driving at night on Legian Street as the traffic is extremely heavy. Vehicles are stationary, it is best to get around on foot or by scooter.
You can test your negotiating skills with the local merchants lining the street. They won't hesitate to give you the highest price at the start.
The city's most famous nightclub, the Sky Garden, is on Legian Street. If you're a nightclub fan, this is the place to be. There are 3 floors to find different atmospheres. You can dance and listen to music on the roof. The prices are also very attractive so let yourself be tempted.
We must not forget that Kuta was hit by a suicide bombing in October 2002. It happened in a nightclub. A monument in honor of the victims was built at the club's site.
The most annoying (to be polite), it is the oppressive solicitations of the tradesmen of the street. Need a taxi, take a bus, rent a motorbike, a scooter, go to the Gili Islands, get a massage, eat, drink? Some will offer you everything at the same time! This is valid throughout the city, but especially on Legian Street. You spend your time answering "No, thank you". Our worst experience on this was at the Bounty Tavern Bar where the waiters would come back every 2 minutes to offer us another drink. After 30 minutes, or 15 requests, we walked out not having benefited at all.
Jalan Pantai
Jalan Pantai is a very busy street located along the beach. This is where the city's famous Hard Rock Café is located. It is a destination where many tourists come to relax for a drink or listen to live music. In front of the cafe, the iconic giant double neck guitar overlooks the street.
All along the street you will find the most famous fast food restaurants, KFC and McDonald's, with menus adapted to local food. The fries are replaced by white rice. You will also discover other restaurants with varied cuisines as well as a rather original food court. About a hundred dishes are displayed above the stands. It is difficult to make a choice…!
Then the street continues to the BeachWalk Shopping Center which is also very lively in the evening.
Jalan Kartika
There are also a lot of people around the Discovery Shopping Mall. Bali's famous Waterbom is located in Jalan Kartika, a water park popular with tourists. The square in front of the shopping center is very lively with concerts and restaurants.
In the street, for several hundred meters, there are restaurants. The specialty here is seafood! You can choose your fish from one of the aquariums before you even enter. The prices are a little excessive, because the place is touristy and the products are fresh.
The beach north of Kuta
In the evening, the bars and restaurants on the beach show a warm and summery atmosphere. Tables and ottomans are placed on the sand. Each location has a colored parasol (red, blue, green, yellow, orange, etc.) which lights up at night. It is even very pretty to see from afar if you take an evening beach walk north of Kuta Beach.
Where to stay in Kuta Beach?
There are several ways to enjoy your stay in Kuta Beach. Classic hotel, guest house, luxury resorts … It all depends on what you are looking for and also on your budget.
The resorts
Let's start with the extreme, the luxury resorts where the only watchword is relaxation. No need to think about it, you are served like a prince. Private swimming pool in the rooms, Balinese decoration, the architectures are truly breathtaking. Here are 10 5 star hotels in Kuta that are sure to make you dream.
Hotels or Guests Houses
If you can't afford one of the previous luxury hotels, here's some tips for finding a place to stay. Try to stay close to both the city center and the beach. This is really practical, because you can get around everywhere on foot and therefore at no cost. There are hotels and guesthouses in town and at all prices. As Kuta is very touristy, the offer is quite abundant. Be careful to book if you come in high season.
5 THINGS TO DO IN KUTA IN A DAY!
In September 2017, we visited Bali, "the island of the gods". During our stay, we stopped in Kuta Bali. On the program: visit, walk and "beach marathon".
Quite frankly, there isn't much to do in Kuta. Do not hesitate to leave Kuta to see beautiful things. And why not take the opportunity to visit the Bukit peninsula in southern Bali? You can dine on beautiful Jimbaran Beach or see the famous Uluwatu Temple and its dance performance.
Before you start …
We didn't appreciate Kuta more than that. Our accommodation was in Kuta-Legian. If I had to do it again, I would choose Seminyak because it is less crowded and the atmosphere is more fun. Kuta is very touristy and is recommended if you like to party or surf.
We still managed to suggest 5 things to do in Kuta (+bonus) . These are things you can do over a day or two. You can do them by scooter or with a private driver.
1. Stroll through the streets of Kuta
As soon as we arrived in Kuta, we started with a stroll through the streets. To be honest, Kuta is not at all what I imagined. It's a very busy place, a lot of traffic. Sometimes there are not even sidewalks for pedestrians!
And then every 3 meters someone walks up to you trying to sell you something.
On s'est également posés sur la grande plage de Kuta, au moment du coucher de soleil. Avec une Bintang (la bière locale) c'est le top! Vous pourrez aussi regarder les enfants jouer avec leurs cerf volants. Cette plage relie les villes de Kuta, Legian et Seminyak et est réputée pour être un spot de surf. Si l'envie vous prend, vous pourrez y prendre votre première leçon de surf.
We also landed on Kuta Beach at sunset. With a Bintang (the local beer) it's the best! You can also watch the children play with their kites. This beach connects the cities of Kuta, Legian and Seminyak and is famous for being a surf spot. If you feel like it, you can take your first surf lesson here.
2. Tanah Lot, the temple built on water
Le temple Tanah Lot est situé à une vingtaine de kilomètres de Kuta mais ne vous fiez pas aux kilomètres à Bali, ça vous prendra un peu moins d'une heure pour y aller. Ce temple est très réputé, donc il y aura beaucoup de monde mais il vaut vraiment le coup. Vous ne pourrez pas y pénétrer mais voir cet îlot au milieu des vagues donne un très beau panorama.
Tanah Lot temple is located about twenty kilometers from Kuta but don't be fooled by the kilometers in Bali, it will take you just under an hour to get there. This temple is very famous so it will be very crowded but it is definitely worth it. You will not be able to enter it but seeing this islet in the middle of the waves gives a very beautiful panorama.
3. Visit of a Kopi Luwak plantation
In Bali, you will find it everywhere. The world famous Kopi Luwak or Café Luwak is reputed to be the most expensive coffee in the world.
The particularity of this coffee is its preparation. The Luwak, a small Asian mammal selects and eats coffee beans. These are then recovered in the fruit of the animal's almost absent digestion (yes, in the poo …). Don't worry, the seeds are cleaned (normally!) And roasted to make the coffee.
During the visit, you are shown the Luwak. In the plantation we visited, he was locked in a cage. A bit sad. We also show you what Luwak's poop looks like.
Then, we were treated to a tasting of several teas and coffees. It was great. We were able to discover tea made from a fruit called mangosteen that we did not know. We liked it so much that we bought it on the spot. This fruit is found to have beneficial effects on health. There were also coffees with original flavors such as coconut coffee or sweet potato coffee.
Finally, we tasted the famous coffee. I'm not a professional, but I like coffee in general. This one, I did not find it excellent.
It is drunk but nothing more.
+1 for the rather nice setting, the plantation faces rice fields.
The visit to the plantation and the tea tasting are free. You only have to pay if you want to taste the coffee. The cup was 50,000 rupees (around 3 euros). There is also a shop where you can buy the teas that you have tasted a little earlier.
4. Canggu Beach
the early afternoon, head to Canggu, a town located between Tanah Lot and Kuta. As usual, a little bintang and you're on the beach sunbathing. For a few euros, you can have a massage.
5. Sunset in Seminyak
We ended the day on the double six beach in Seminyak. Just to admire the sunset. This beach is littered with bars full of colorful poufs and parasols. What makes a very beautiful panorama.
Initially, we wanted to have a drink at the most famous beach bar "La Plancha" but it was too crowded. So we settled in a bar next door, the D'Joglo Beach Bar which was very good.
This is clearly my favorite part of staying in Kuta.
Bonus: Get a Tattoo
In Kuta, you will see, there is a tattoo parlor every 10 meters. Limit, I would say one in three shops is a tattoo parlor. We really like tattoos. We did one each in Thailand. Indeed, the health rules are just as good as in France and tattoos are much cheaper there. It's like everything, do not hesitate to negotiate.
To get an idea, Christophe got a skateboard girl tattooed on his forearm. Price: 1,500,000 rupees (around 100 USD)
Kuta, Legian, Seminyak and its surroundings
1st stop on our 3 week Bali travel itinerary
Are you planning a trip to Kuta Bali? To help you prepare for your vacation on the Island of the Gods, we invite you to discover on our OneDayOneTravel travel blog the stories of our first 3-week trip to Indonesia. We are in 2011. A first trip between Bali, Lombok and the Gili Islands which will be the first of a long series in Indonesia.
Welcome to Kuta Bay, Legian and Seminyak! We'll also show you what to do and what to visit nearby.
This 1st leg of our dream trip to Bali begins in Kuta Bay, Legian and Seminyak. It is the must-see spot in the south of the Island of the Gods for beaches, surfing and that we recommend if you are going to Bali to party. Kuta Beach is also the closest beach to Denpasar Airport where all tourists disembark.
That's why, we don't stay directly in Kuta but at the end of the bay, in Seminyak, or even in Canggu to avoid the crowds. A neighborhood that we discovered during our subsequent trips to Bali. Either way, South Bali is where the journey begins for most travelers. In high season, it is therefore better to get away from the hustle and bustle, especially if you are more looking for a quiet spot to start your discovery tour.
Far from Balinese serenity, Kuta is therefore confusing with its excesses: local and international shops, nightclubs and bars open until early morning, crowded beach. A multitude of activities to keep you busy 24 hours a day. Same in Legian. The further away we go towards Seminyak and Canggu, the less energetic the atmosphere will be.
In Seminyak, the atmosphere is calmer but above all more upscale. This is the district of trendy shops and clubs where you have to be seen! The hotels line the beach and it is in the immediate vicinity that you can rent villas in town or in the middle of the rice fields. Some are very upscale and in general, even for moderately priced villas, you will often benefit from the services of attentive staff.
Interactive map of our itinerary in Bali, Java and Gilis
Here are all the stages of our 3-week itinerary in Bali, Lombok and the Gilis on an interactive map.
The mythical beach of Kuta Bali
Kuta Beach is the beach where the history of tourism in Bali begins. Kuta is one of the world's legendary surf spots. For beginners, there are several surf schools in Kuta Bali. The oldest and best known is at the Hard Rock Hotel. Be careful, however, the sea can be dangerous. Lifeguards monitor authorized swimming areas. Prefer these spots to avoid strong currents, especially in Legian.
In any case, we do not come to the south of Bali to bathe. Indeed, because of the big waves, the tides and the powerful currents which skirt the coast, this one is most often prohibited. On the other hand, the beach is beautiful.
The beaches bordering the center of Kuta Bali are usually crowded and it is almost impossible to rest. You will be in constant demand by street vendors: Hats, kites or sunglasses, everything goes! You can let yourself be tempted by a Balinese massage.
Don't forget to negotiate and let yourself be pampered.
For more tranquility, therefore, prefer the following beaches towards Seminyak. When the sun goes down, the locals take over the place: Football games are improvised on the sand, family picnics are popping up everywhere. As the sun sets, the sky is adorned with fabulous colors specific to Bali.
Kuta town Bali
Kuta Bali: love it or hate it! The city is a maze of streets and shopping alleys. You can find everything there: shops, cafes, guesthouses. You can quickly get lost, the city looks like a traffic jam labyrinth.
Note that Kuta Bali is an exception in Bali when it comes to traffic and lifestyle. You will quickly reconnect with Balinese serenity as you move away from this hustle and bustle. You can shine in the region by staying in Kuta. We offer 2 easily accessible excursions.
The best way to get around the island is by scooter! With a little caution and experience, driving the scooter is quite easy and smooth despite the flow of minivans, jeeps, scooters and more.
For the record, you have to stop by the side of the road to refuel. Small shops follow one another on the road and sell gasoline by the liter in vodka bottles, original! If all this puts you off, take a cab!
What to visit around Kuta? Tanah Lot temple
To visit the temple of Tanah Lot, it takes a 1 hour drive by scooter, but the magical and enchanting scenery on arrival is well worth a return trip.
What to visit not far from Kuta? The Bukit peninsula
Dreamland Beach: THE white sand beach
A 1.5 hour drive from Kuta, we arrive at Dreamland which is a white sand beach located at the foot of limestone cliffs. The waves are softer here. The spot is ideal for budding surfers. You can rent mattresses and bask between swimming in the turquoise water.
One day surfing at Uluwatu Beach
Let's continue the road further south. We branch off just before Uluwatu temple to the right to reach this world famous surf spot. Uluwatu Beach is a steep-sided beach at the foot of a cliff. The place is really great!
The view is breathtaking! A stay in Uluwatu is possible. Accommodation is available on site, mostly reserved for surfers, but which also generally welcome independent travelers.
Visiting the Uluwatu temple
Just after the previous fork, you will find Uluwatu Temple. Enjoy the view and watch out for the prankster monkeys present on the site.
Where to eat, have a drink in Kuta Bali?
Warung Ocha, JL Raya Seminyak n°52 à Seminyak. Warung local. Simple and user-friendly.
Restaurant/PubLucky Day, JL Camplung Tanduk in Seminyak.Any welcomes you with a smile, local and international cuisine. Medium budget.
Restaurant in Tapas La Plancha, on Double Six beach in Seminyak. Our favorite. Tapas bar, feet in the sand in Kuta Bali. Excellent mojitos. High prices.
Bar-Restaurant-Club La Kudeta, north of Seminyak Beach. The place to be at sunset. Electro music, luxurious decor and very high prices.
Where to sleep in Kuta Bali?
Along the long bay of Kuta bali, 3 options are available to you:
Lively Kuta, a paradise for Australian surfers. There are a good number of accommodations at good prices.
Legian, a little further north, is more family-friendly. Accommodation is generally good value for money.
Seminyak, at the far north of the bay, is home to high-end accommodation as well as villas. The neighborhood is more trendy with its trendy restaurants and galleries. We love Seminyak. We published an article on some villas especially in Seminyak and Bali more broadly in this article: Bali chic.
Otherwise, since 2015, we also love to sleep in Canggu which is located just after Seminyak to the west. Quieter, this area is changing quickly and the addresses are multiplying there from year to year, but the atmosphere remains largely authentic between rice fields, beaches and traditions. It is also an excellent spot for surfers. You can find more information in our blog post dedicated to Canggu.