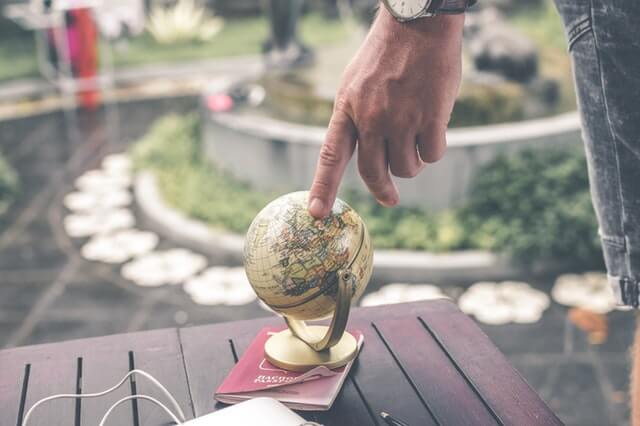 You've probably pulled your hair so many times thinking about how choose your destination? The easiest way would be to spin a globe and let your finger decide for you, but that's for those who can afford it.
Even if you you already have a travel bucket list, it's hard to decide. Here are some tips that may be useful to choose your destination the next time you're planning to travel anywhere:
Make your own "Travel bucket list"
First of all take a paper (yes I still use paper) and write down the destinations that interest you the most. Make a customized list to your needs, do not hesitate to browse a few travel blogs to fill the sheet. Don't refer to blogs promoting "Best Travel Destinations 20xx" they don't have the same taste and budget you have, try making your own list.
Set a travel budget for the trip
This one is required, set a budget for each of the chosen destinations and proceed by scratching those that doesn't respect your travel budget.
If you have a large budget to spend, we recommend booking a Luxury Space Hotel (just kidding) and spend it all on one single trip that make you more than a traveler.
Time is so important when travelling
We all now that travelling is where you don't count time, you just enjoy the stay, but try to count the time difference between you and your destination, and decide according to the period that you will stay. It's not worth it to spend 2 days in one place when you're travelling for 12 hours, you will spend most of your time recovering from the Jet Lag. So make sure to choose a destination close enough in order to enjoy the most.
Safety Above All
Check information on the destination country, you do not want to find yourself in civil war or in front of closed borders (that reminds me of Tom Hanks at the The Terminal). An other important factor is to check if the the country you're traveling to is safe, if you're travelling from the US check the Bureau of Consular Affairs to make sure the country is safe for you and your family.
Try also checking this article for some tips about travel safety to protect yourself and your belongings. If you'r traveling by road or planning to have a long road trip, try checking those road trip tips for a confirmatable and safe drive.
Should I Bring an Umbrella?
Check the whether of the region during your stay, double check again few days before you leave, it will be a waste of your time and money to spend your stay in the hotel because of bad weather.
Tip: After you choose your destination, just write "Should I Bring an Umbrella in…" on Google. It will show you whether for a specific country you mention, and what to bring/not in your Backpack.
Which Travel Vaccines Will I Need?
Check the necessary vaccines to take before leaving the country, to avoid catching something that will spoil your stay. For maximum protection, you should get all required shots six weeks before departure.
Required Travel Vaccines: (source WebMD)
Hepatitis A.
Hepatitis B.
Typhoid and paratyphoid fever.
Meningococcal disease.
Yellow Fever.
Rabies.
Japanese Encephalitis.
Did you choose your destination yet?
If you still hesitate about the list you already made, sleep on it, do an other list tomorrow. You'll come up with good options, don't forget to check with your travel partner or family.
Those were just few tips to guide you through the process of find a destination for your next vacation, you just have to add your own criteria. Keep in mind whatever your choice is, it will be the best choice because it's your. Just enjoy and have fund, after all it's the holidays.